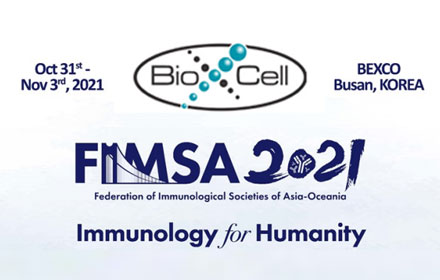 2021년 아시아오세아니아면역학회 FIMSA Congress (FIMSA 2021)
학회는 부산 BEXCO에서 2021년 10월 31일(일)부터 11월 3일(수)까지 4일간 진행됩니다.
바이오엑스셀코리아(BioXCell Korea)는 FIMSA Congress 2021에 후원사로 참석합니다.
Welcome to the FIMSA 2021!
On behalf of the organizing committee, I welcome your participation to the 8th FIMSA Congress (FIMSA 2021) which will be held between the periods of Oct. 31-Nov. 3 in Busan, Korea.
This is the first FIMSA meeting held in KOREA and I strongly encourage you to visit Korea to experience the warmth of friendship and richness of Korean culture, in addition to scientific communication with FIMSA members.
Although the current stage of COVID-19 pandemic may hinder visiting Korea from abroad, I hope that by the end of Oct. 2021, this pandemic could be overcome by the efforts of our scientific fraternity. FIMSA 2021 will be held in an on/off-line hybrid format and the international registrants who cannot visit Korea physically will be able to participate through virtual presentations.
Our Scientific Program Committee, chaired by Eui-Cheol Shin, comprises a mix of immunologists from across all the members of FIMSA and put together an exciting inspiring scientific agenda. We have prepared special symposium on "COVID19 Immunology" and "Omics in Immunology". Distinct scholars will give talks as plenary speakers or invited speakers in one of the excellent 12 block symposia. Also, young scientists will have a chance to give talks along with the distinct scholars.
With a warm heart of gratitude, we have prepared this 8th FIMSA meeting as a festival for FIMSA members and hope to enjoy extraordinary science and heartfelt companionship through this event.
We are looking forward to hosting you at this exciting hybrid FIMSA 2021 meeting.
[홈페이지] http://www.fimsa2021.org/